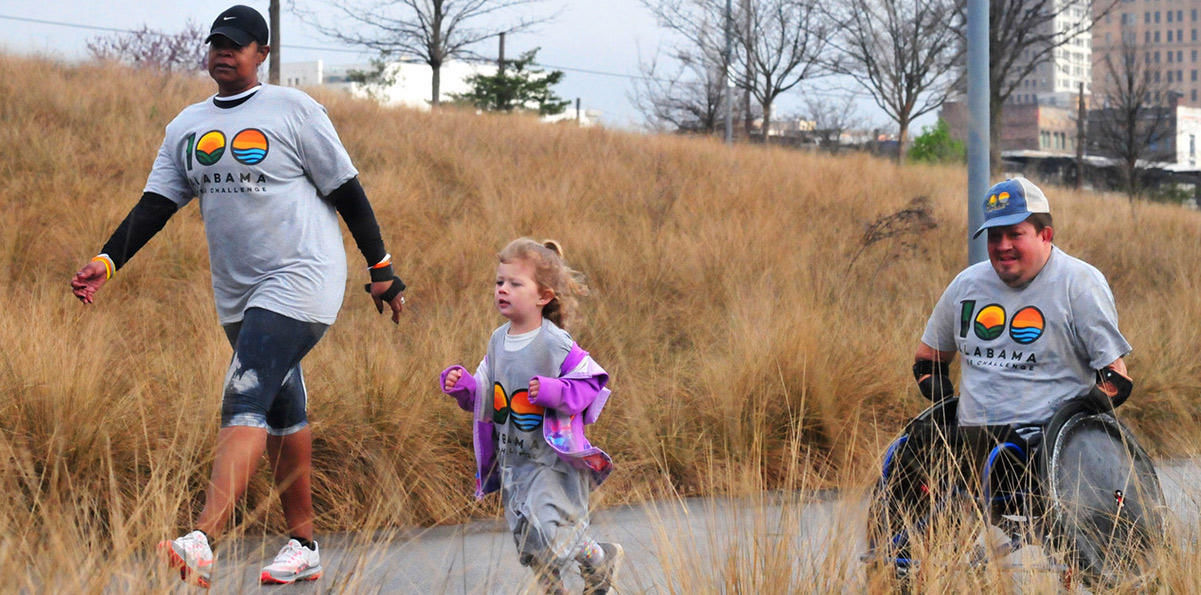 The 100 Alabama Miles Challenge is proud to partner with our Ambassadors, who are helping us to spread the word about our program! You are invited to join one or more of their groups here on the website as you get your 100 miles in 2020!
Dr. Olivia Affuso

Dr. Olivia Affuso is an Associate Professor in the Department of Epidemiology at The University of Alabama at Birmingham and an Associate Director of Public Health in the Center for Exercise Medicine. She is also a co-Director of Investigator Development in the Obesity Health Disparities Research Center. Her research focuses on the prevention of chronic disease through physical activity particularly among women and girls. She is an avid runner and adventurer, and she works to encourage others to be active and to explore the outdoors. https://youtu.be/VzHR-gK2Swo . Dr. Affuso's 100 Alabama Miles Challenge group is called Black Magic Trail Sisters.

Bob Lujano

On January 6, 1979, Bob contracted meningococcemia, a rare form of meningitis. To save his life, all four limbs had to be amputated. Since then, Lujano's goal has been to live an independent life like everyone else. He earned his master's degree in Recreation/Sports Management, a bronze medal for quad rugby in the 2004 Paralympics, co-starred in the Academy nominated documentary Murderball, and was a guest on Larry King Live. He continues to work at the Lakeshore Foundation as an Information Specialist for the National Center on Health, Physical Activity, and Disability. He is an advocate in the area of adaptive and competitive wheelchair sports and serves as President for the United States Quad Rugby Association. He was recently named a Laureus Ambassador for Sport for Good. He is a motivational speaker and works to foster social change for inclusion in sports and activity. Bob published his autobiography, No Arms, No Legs, No Problem, in 2014.
Bob's 100 Alabama Miles Challenge group name is Team Bob Lujano.

Eric Thomas

In 2012 Eric was facing serious health problems due to poor diet and inactivity. That year he decided to join Black People Run, Bike, and Swim, and ran his first 5k. Through running he started to lose weight; in turn he saw his health improve, and he never looked back. The following year he ran the Mercedes half-marathon, and in 2014 he ran the Mercedes full marathon. Eric is now a professional running coach through his business, Fit 2 Finish Strong, and he helps runners develop training programs to reach their running goals.http://b-metro.com/running-for-his-life/35480/. Eric's 100 Alabama Miles Challenge group is named BPRBSpoweredbyF2FS.

Robbie Gibbons

Robbie Gibbons starred on the ABC reality TV show, Castaways, which aired in the fall of 2018. The show, which journaled the lives of 12 individuals as they tried to survive on islands in Indonesia, tested the human need for companionship under extreme circumstances. Contestants were dropped alone throughout various islets in Indonesia and challenged to survive among washed-up luggage, scattered resources, and abandoned structures. While they knew castaways were on islands nearby, they were unaware of how many, or their locations. Not knowing when they would be rescued, each contestant had a choice to persevere long enough to be rescued, or to quit. On the show, Robbie became known for having a positive outlook through the worst of struggle. His positive insight inspired fellow contestants to not only survive the islands, but also to meet the challenges of everyday life. Robbie started his journey weighing over 410 pounds. He survived the entire 6 weeks on the islands before being rescued. During his time on the islands, Robbie realized he needed to make a complete lifestyle change and made a commitment to himself to live a healthier life. After returning home, he was able to overcome morbid obesity by cleaning out the kitchen, and starting a regular exercise program. He has lost over 170 lbs., transforming physically, mentally, and socially, bringing balance back into his daily journey. Robbie is a coach, motivational speaker and fitness personality. He has come full circle and ignited his spark by being active, eating clean, and connecting with community! We are stronger together please join Robbie in the 100 Alabama Miles Challenge this year!
We Got This! Robbie's 100 Alabama Miles Challenge group is called WeGotThis.

Jerri Haslem

With over 30 years of experience in community outreach, minority health issues, public speaking, and health education. Jerri has served in several leadership roles within the Birmingham community. She is an avid spokesperson for health and fitness, creating the program 12 Weeks of Change and developing the curriculum for the Got Sugar program in collaboration with the TMCA of Greater Birmingham. She is the co-founder of the organization Black People Run, Bike, & Swim. Through her many activities, Haslem has shown an unwavering commitment to empowerment and education for all, and a strong belief that health is not a destiny, but a journey. She is an alumna of UAB, receiving a bachelor of science in Health Education.
Jerri's 100 Alabama Miles Challenge group name is BPRBSpoweredbyF2FS.

Christy Holt

Christy is now retired after teaching school for 25 years. A native of Bibb County, Christy and her husband love animals and have 2 horses, 2 mules, 2 donkeys, 2 barn cats and a year-old German Shepherd. Christy and her husband travel all around Alabama camping with their horses and enjoy the community of horseback riders in our state. As an Ambassador for the 100 Alabama Miles Challenge, Christy is honored to share her love of staying active through horseback riding with others, and invites those interested to join her 100 AL Miles group. Come join me on the fantastic trails of our great state.

See you on the trails.

Dan Truitt

Being born in Decatur, Alabama, Dan has always been around the waters of the Tennessee River and the Wheeler National Wildlife Refuge. He fell in love with canoeing as young kid going on paddle trips with his church youth group. But as time progressed he visited the water less and less. As an adult, poor diet and a sedentary lifestyle led to his weight peaking at over 300lbs. With an exercise regimen and improved diet, the pounds came off and he began enjoying outdoor activities again. But when he floated the Flint River in Huntsville, Alabama, one Saturday he rediscovered his passion: paddling. Now Dan is on the water every chance he gets, year round. Whether it's watching the sun set on the river, observing wildlife or simply taking a day trip with friends, paddling provides both physical and mental health improvement. Dan shares his kayaking adventures on social media through his Southern Paddler accounts on YouTube, Instagram, and Facebook.